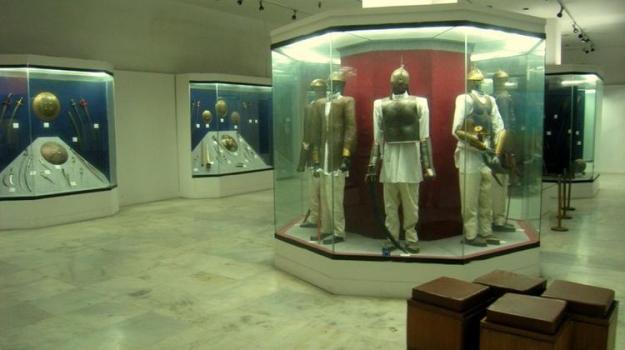 The National Museum is located in New Delhi. The National Museum is one of the biggest museums in India. This museum was set up in 1949 and it marvelously displays different articles and works of splendid art created by ancient people.It displays all works of art from pre historic period to contemporary modern works of art.This museum is located near Janpath and Maulana Azad Road. The National Museum comprises of over 20000 artistic works. Indian as well as foreign ancient works of arts are seen here. We get a crystal clear view of various civilizations. This museum has historical importance. It traces all essential periods and era s of history.That is why this place holds educational significance. A visit to the National Museum can be extremely beneficial for children. All historical periods and artifacts can be seen here. It reminds us of history and gives clear visuals about that particular period.  The visuals displayed in the National Museum are truly incredible.
National Museum – Major Attraction's
The National Museum is an epitome of splendid works of art made by ancient men. The museum displays works of prehistoric archeology, archeology, Manuscript's, numismatics and epigraphy, paintings arms and armor, decorative arts, central Asian antiquities. It also showcases the Pre- Columbian art, beautiful and unique jewelry, anthropology and also a variety of articles are seen here which give essential information. Here you will visualize an exquisite collection of western as well as American art. Incredible artifacts related to History like the artifacts which we received from Harappan civilization is shown here. This vivid collection is highly informative and it displays the artifacts of growing technology.
The process and progress of entire human civilization are found here. The works of arts found here are commendable. Other visuals of the National Museum are a Modern civilization of Egypt, Mesopotamia, and China. These artistic models were made by ancient men.Their intelligence and creativity have given us lots of gainful information. The other major attractions of the National Museum includes Maurya, Satvahana, Shunga Arts gallery, Kushana gallery which depicts Kushan era or period, Gupta gallery which displays artifacts from ancient Gupta Dynasty. The medieval Arts gallery contains marvelous sculptures that belong to the Medieval era. Such display of historic artifacts gives us lots of knowledge about ancient history. A visit to the National Museum can be very insightful and will be very informative for children as well as for adults.
Important Information About the National Museum Delhi
Entry Ticket Price – Entry fee for students is Rs.1/- (almost free) and For Indian citizens, it is Rs.10/- and for foreign citizens it is Rs. 300/-. Still camera fee for Indians is Rs.20/- and for foreigner's it is Rs.300/-
National Museum Timings – National Museum remains closed on Mondays. On other weekdays timings are 10:00 AM – 5:00 PM.
National Museum contact number – +91-11-23792775
National Museum Location / Address – Rajpath Crossing, Janpath, New Delhi, India