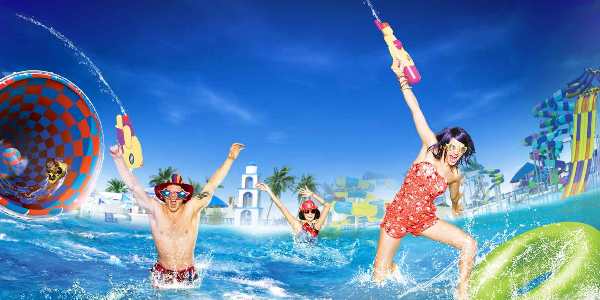 The Capital City of Rajasthan is Jaipur famous in all over India for tourist place as well as the name of the pink city. the city was founded in 1726 by Jai Singh-II, the raja of Amer. as for tourist point of view one of the best city in India. and also Jaipur was known as hot climate desert. if you have the plan to spend this holidays in Jaipur Rajasthan then here you can find best water parks and amusement parks details. In Jaipur, there are lots of water parks available for the tourist you can choose any one for visit. this article will helpful to find a good and safe water parks in Jaipur because here we are providing topmost water parks available in Jaipur and also see their entry charges, water park location, facilities, contact details etc.
Lots agencies open their water & amusement park in Jaipur at very cheap cost. and also provides group packages for more than 20 peoples and a group of colleges students. all these water parks are safe you can enjoy here with families and friends without any fear. and also enjoy by taking the meal inside the restaurant of Cafe. so there is the list of best water & Amusement parks in Jaipur Rajasthan.
Best Water Parks in Jaipur Rajasthan
1. Mauj Mahal: – Mauj Mahal offers water parks as well hotels facilities to the tourist. a wide range of parks is located at chomu Sikar road Jaipur. as we talk about facilities then you will find here water parks, Marriage Garden,  Restaurant, Hotels Rooms, Banquet Hall etc. here some useful details of Mauj Mahal Water Parks & Fun Resort such as Mauj Mahal water park timing, location/Address, entry charges, contact details etc.
Mauj Mahal Water Parks Location/Address: – Bad Pipli Stand. Chomu Sikar Road, Jaipur Rajasthan-302013
Entry Timing:- 10 Am to 6 PM 
Enquiry Phone Number:– 7240449803
 2. Appu Ghar: – it is also located in Jaipur Rajasthan City near Delhi Ajmer Bypass road. it has lots facilities inside the water park. you will enjoy a lot with families and friends. it has parking facilities as well as security for visitors. some details of Appu Ghar Water Park Jaipur.
Appu Ghar Jaipur Address/Location: – Delhi Ajmer Bypass Road, Hathroi, Jaipur Rajasthan-302001
Park Timing:- 10 AM to 6 PM
Entry Charges: – Please Visit ticket counter of Appu Ghar Water Park Jaipur.
3. Sunrise Health Resort: – it has also the best option to the visitors those who have crazy for swimming and fun at the water park.  it is located at chandwaji Ajmer bypass road Jaipur Rajasthan. inside the water park, you can find lots of things for fun such as water park, disco club, Cultural Dances, open air stadium etc.
Park Address/Location: – Village Sar (Bilochi), Delhi Chandwaji Ajmer Bypass Express highway, Jaipur Rajasthan.
Helpline Number:- 9983333900
Entry Timing & Closing Time:- 10 AM to 7 PM
Entry Ticket: –  Rs. 800/- per head. for more details click here